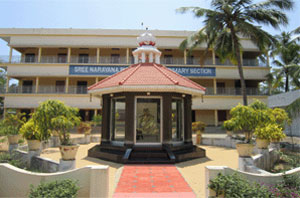 About Indian Public School
Quality education for social justice
Indian Public School , Kollam was established in 1997 under the management of the International Social Cultural and Educational Society. The school was taken over by Sree Narayana Educational Society in 2007.
Indian public School is located in a beautiful and spacious campus just 3km away from Kottiyam and 2km away from Mukhathala. From Kollam the distance is almost 12km to the School. The 3 acre area of the campus houses the present buildings, a beautiful garden and playgrounds. The extensive green paddy field makes a splendid backdrop to the school.
Aims & Objectives
Sree Narayana Public School was founded in 1986 with the specific objective of materialising Sree Narayana Guru's exhortation, "Educate to Enlightenment". Free from discrimination of all sorts- social, cultural, religious, economic, the non-profit charitable society launched the first school in Kollam affiliated to the Central Board of Secondary Education in 1986. The commitment of establishing social equality through education has always been upheld by the society. Our school, taken over by SNES in 2008, preaches and practices exactly the same high ideals of education. Today, Indian Public School is synonymous, to "quality education for social justice". The school is led forward by the teachings of the Guru and our ultimate objective is to make our school an ideal institution where fraternity prevails with no discrimination of any sort. We are bound to instilling fundamental human values and the ideal of national integration into the learners and equipping them with the academic preparedness to win ambitious career goals. May the radiance of the Guru guide us to these goals.
A Model centre of excellence
Fall in standards is a by-product of universalization, especially of public school education. Public School sophistication tends to be limited to poor version of the dress code in many CBSE affiliated schools. Indian Public School is sworn to adhering to the original parameters of Public School education. Our slogan is perseverance until and even after we achieve our high academic goals. We are sworn to moulding competant careerists who uphold human values of compassion, fellow feeling and patriotism.